Student Profiles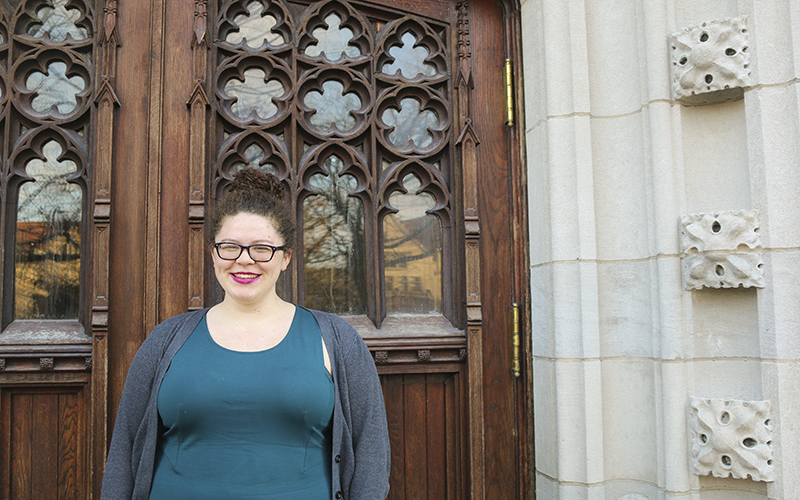 Rita Jefferson
Class of '17, Anthropology
"I got the CPS scholarship as part of the UChicago Promise. It has quite literally changed my life."
Rita was drawn to UChicago by the aid offered to her through UChicago Promise and because "the school has arguably one of the best anthropology departments in the country," she said. Rita is active in University Wind Ensemble, UChicago Democrats, and the Spiritual Life Council. Because of UChicago, she believes she has become "a better thinker, writer, analyst, and world citizen." One of her favorite things about going to school here is the bonds she has formed in her residential home of Talbot House.
Christian Palacios Class of '17, Public Policy and Philosophy

"I've wanted to go to Chicago since I was very young."
Proximity to home and a stellar academic reputation initially drew Christian to UChicago, and the creative supplemental essay questions in UChicago's application sealed his decision to accept admission. Christian participates on the school's debate team, can draw a phoenix from memory, and has enjoyed engaging with the Steps to Success program. Some of his favorite memories are of late nights in Regenstein Library, writing essays with a cup of coffee somewhere in the back of the book stacks.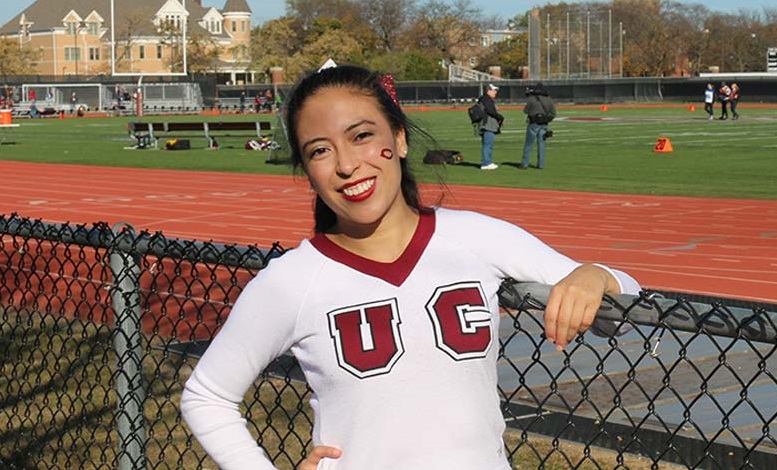 Isa Alvarez
Class of '19, French with Pre–Medicine
"I wake up every day thankful to be at a place I wanted to be at for so long."
Isa was drawn to UChicago by its "tight–knit and quirky community," which manifests in traditions from Scav to campus Houses to the famed latke–hamantash debate. Isa didn't come to UChicago planning to major in French, but she "fell in love with the language, the culture, everything" through her language requirement in the Core. Isa participates in cheerleading, the MODA fashion blog, and the Body Project, and is a Research Assistant at the hospital. She encourages prospective and incoming students to "enjoy every moment along the way" in their college experiences.
Miguel Ortega Class of '17, Economics and Psychology

"Without Questbridge or CAAP I would find it hard to even picture myself being in a college of this stature."
Miguel was drawn to UChicago by the "endless opportunities" he saw in the school. Miguel is both an Odyssey Scholar and a Questbridge Scholar, and he is active in the Motet Choir, the Vocal Studies program, WYPP, and other RSOs on campus. He has especially appreciated "The Mind" and Spanish classes in the Core, and believes that his UChicago education has enabled him to change the world. If he could speak to the person who made Odyssey possible, he'd tell that person that "his selflesssness and generosity to complete strangers has touched more lives than he/she could ever imagine."
Christine Schmidt
Class of '17, Undecided
"All of my classes here have taught me more than just the information presented in the lecture or in the textbook."
Christine's decision to accept admission to UChicago, she said, was a "no–brainer." She is busy working on a career in journalism (specifically, business journalism or political journalism). Christine writes for the Chicago Maroon, and is also involved in the Institute of Politics and the University Community Service Center. She's a beneficiary of the Chicago Police and Fire Scholarship.
Maya Rodriguez Class of '18, Psychology with Pre–Medicine

"All the pieces fell in place at the perfect time."
Maya decided to attend UChicago because, from her first visit, she felt "comfortable around this set of peers." Also an Odyssey Scholar, Maya says that it's the resources of the UChicago Promise program that make it so helpful: "They are the support network built into a totally new community," she says. Maya is involved in the fashion blog MODA, Greek life, and the Organization of Latin American Students (the 2016 Cultural Show is her favorite UChicago memory). She encourages new students to never stop pursuing old interests and to discover new ones. Maya wants to work with programs that address healthcare issues that face underrepresented communities.